January 23, 2018 around 2:00am – Tsunami Alert Issued
In the wee hours of January 23, 2018, the Department of National Defense (DND), local municipalities in the Capital Regional District (CRD), as well citizens who had subscribed to their local emergency notification systems, received an alert that a large earthquake had occurred in Alaska and that a tsunami warning was in effect for low lying areas close to the waterfront. Several hours later, another notification was sent to cancel the alert and inform the residents that the warning was no longer in effect. Many people were reported gathering at the top of Mount Tolmie, Mount Doug, Dean Park and many other high altitude points.
In the days that followed, a lot of questions were raised, particularly regarding the lack of a cohesive response (Vic Alert, Sidney Emergency & other municipalities' notification system subscribers were notified while others were not). The CRD and DND made the decision to monitor but not alert the residents while other municipalities had alerted residents. No sirens or alarms were sounded.
In many ways, this event will serve us as a real life, practical experience to develop better, more centralised and cohesive systems that help alert residents and visitors in a consistent manner, as well as develop clear strategies in terms of public messaging (i.e. who needs to evacuate and who does not).
Indeed, the lack of easily available information and public education on tsunamis and the risks that they pose in our region is astounding. Disappointingly so, when so much great research and modelling has been performed by some of the regions top scientists.
Many of the people who decided to flee to Mount Tolmie or Mount Doug had the vision of a blockbuster-movie-like 300 meter plus wave towering over Victoria and crashing down to wash everything in its path out to sea.
If more information had been disseminated and public education had been an essential component to earthquake preparedness for our region, many residents could have avoided the unnecessary stress of imagining the doomsday monster wave wiping Victoria from the map. Not to underestimate the potential damage and catastrophic impact of a tsunami wave to much of the Vancouver Island's West Coast; however, generally speaking, if you live in the CRD, the risk is low (either Zone D rated as low or Zone E rated as very low). The highest predicted wave for the region is for Port Renfrew, estimated at a maximum of 3.5 meters – far from 300 m. Other areas such as Port Alberni, Tofino, and Ucluelet are exposed to a much higher risk (Zone C).
The Science & Data We Do Have
Tsunamis and their intensity/threat level depend on several factors:
Earthquake intensity and depth as well as type

(strike slip vs subduction – video).

The January 23, 2018 earthquake was a strike slip which didn't produce a large wave. A subduction earthquake of the same magnitude would have likely created a significant wave.

Strike angle of a wave

Sub-surface topography (deep to shallow or funnel like topography, such as Port Alberni, has increased risk associated with it)

Land topography (higher risk areas would be flat at water-level, steep and quickly rising altitude, or mountains that shield areas like the Malahat or the Sooke Hills)

Geology (sand or mud vs. granite, sandstone, or rock)
As mentioned earlier, a lot of event modeling and science has been performed over the past 15 years in order to give us as much information as possible. Some of the most interesting pieces of information are obtained from studying historic events of large quakes and tsunamis in the region, which hold a lot of crucial information to guide us. How do we know? Well, paleo tsunami deposits are an incredible source of data in the Pacifica Northwest. This information, combined with bathymetry (measurement of ocean depths and contours), as well as land topography, can give us valuable data to build complex modelling of a tsunami hitting our coast. The CRD obtained a really great modelling report for the region. If you have the time and interest, we highly recommend you read it: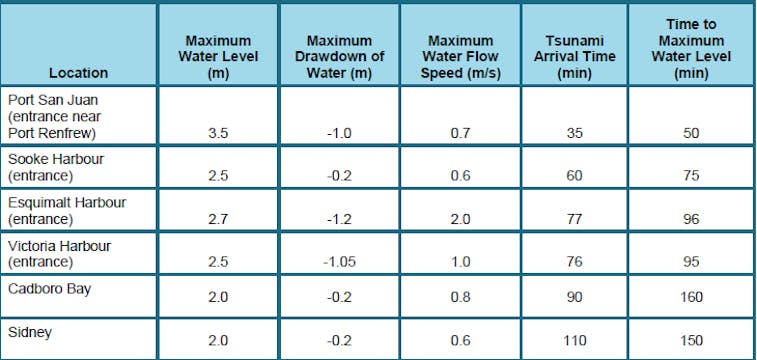 Be Proactive & Inform Yourself: Arm Yourself With a Plan
There is no question that our province and our local governments have been under scrutiny when it come to the handling of the recent events. There is a lot of room for improvement to develop a cohesive approach in alerting and informing everyone. We expect that this latest occurrence will trigger new and improved strategies. We are also hopeful that public education will play a more prominent role as a crucial element to risk management. That being said, there is a lot that YOU can do so that you are informed of the risks in our region (or on the Island's West Coast). Develop a plan so that you have mentally prepared yourself in the event of another alert where the risk is greater than the January 2018 alert. Check out BC's Earthquake and Tsunami Smart Manual, below:
Sign Up for the Notification Systems or Information programs (current as of January 2018)
VicAlert      |  Esquimalt    |  View Royal   |  Oak Bay
Saanich     |  Central Saanich    |   North Saanich   |   Sidney
Colwood    | Langford    |   Metchosin   |   Highlands   |   Sooke
Disclaimer: This article must not be relied upon as an official & current source for emergencies. Information sources were used from the Province of BC as well as from CRD information pamphlets, materials and research. All information contained herein is subject to change.